40 years.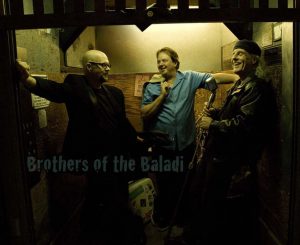 It's time enough for the world to change, for life to grow and flower. Holding a band together for four decades is a remarkable achievement, an anniversary that deserves to be celebrated. That is exactly what Brothers of the Baladi are doing with the release of their 12th album, Gravity of Love (released March 18, 2016 on Baladi Productions). Eight years have passed since their last release, but as this disc shows, there's plenty of musical sharpness and hunger in their mix of Middle Eastern music and Western rock.
"This is the first album where we've used electronics and programming," explains band founder, percussionist, and vocalist Michael Beach. "We still use the traditional instruments, plus electric guitar, bass, and drums. We took a long time with Gravity of Love because I wanted to do something very different this time, to have a change in direction and emphasis. I wanted it to be poppy; not like Katy Perry or Pink, but very accessible.  I think we've achieved that."
That sense of eagerness and passion is there in the thundering drum sound that underpins the opener, "Piece Of The Rhyme," powering along a melody that evokes the space of the Maghreb. On the title cut, saz, bass, and electronics weave together a delicious trance that soars over the crisp percussion.
The band has come a long way from its beginnings in 1976, when Brothers of the Baladi were formed in Yuma, Arizona to back a local Belly Dancer. On "When You Dance," a song about seeing a Belly Dancer perform, they pay homage to that side of the band and its history, but the charango gives it a Latin edge to the melody.
"Before we started the band I'd never even listened to Middle Eastern music before," Beach recalls. "I began playing percussion instruments – dumbek, riq, bendir and singing the songs. Over the years I've become pretty fluent in Arabic, Farsi, Turkish and a few other languages. That helps me put the songs across at a deeper level. We still play bellydance music; we've never turned our back on that.
Beach's move to Portland, Oregon, brought a new version of the band, with a more refined, focused sound. Their sound caught the ears of former Santana drummer Michael Shrieve, who produced the band's 1995 Eye on the World CD. That CD included a cover of the Rolling Stones' "Paint It Black" which was featured on NPR's All Things Considered.
Touring all over the U.S. and beyond has helped Brothers of the Baladi reach wide audiences, playing what the Los Angeles Times called "a sound that knows no borders." With Gravity of Love, though, they made a conscious decision to push themselves and to create something that draws together musical cultures. That makes their cover of Jimi Hendrix's "One Rainy Wish" a perfect choice for the album's centerpiece. Composed by rock's most iconic guitar hero, Brothers of the Baladi transform it into a desert anthem, with the guitar riff played by Clark Salisbury on the oud, while the 7/8 meter of the bridge shimmers with Eastern promise. In their hands it's both an homage and a statement.
"I've always wanted to cover Hendrix, he's been my hero for as long as I can remember," Beach says. "He was always adventurous in his ideas. If Jimi was still alive today I really believe he would have explored and embraced some Middle Eastern sounds and influences in the same way as Jimmy Page and Robert Plant."
Gravity of Love doesn't stand as the culmination of 40 years for Brothers of the Baladi (Baladi translates from the Arabic as people of folk); it's another stop on the way, albeit a very important one. It builds on the successes they've accumulated on the journey, with music featured on the hit TV series like Core Culture and Lost, their Grammy nomination for their last album, 2008's Just Do What's Right, and so much more.
In these fractured times, music still has the power to bring people together, to cross the boundaries of culture and geography. It makes people smile, it makes people dance. Brothers of the Baladi have that power. As The Oregonian said about the band, they play "music that makes regular guys loosen their ties and dance on the table."
Think, dance, and feel the pull of the Gravity of Love.
(Original text from http://brothers.flipswitchpr.com/dispatch/pu/18253)