CLICK HERE for a downloadable, one-page PDF of this page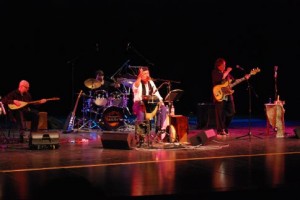 Website: www.baladi.com
Facebook: www.facebook.com
/Brothers-of-the-Baladi
Booking Contacts:
Shawn Stendevad: shawn@darkparrot.com or booking@baladi.com
Members:
Michael Beach
J. Michael Kearsey
Clark Salisbury
Charles Pike
Brothers of the Baladi is a Grammy-Nominated Middle Eastern / World Music band with a unique style and sound that ranges from traditional acoustic to a rockin' groove that audiences love. The Portland, Oregon, USA quartet features:
Traditional Middle Eastern instruments (acoustic and electric Oud and Saz, Mizmar, Midjwiz, Def, Riq, Davul, and Doumbek) fueled with Guitar, Bass, and Drums for a unique sound that crosses borders and bridges cultures;
Vocals in seven languages: Arabic, Turkish, Farsi, French, Spanish, Armenian, and English;
Exotic rhythms and sounds blended seamlessly with familiar grooves, making their music highly accessible to all audiences;
Traditional Middle Eastern songs, well chosen "Baladized" cover songs, and unique original material; and
Middle Eastern/World Music and Drumming Workshops for all levels.
Brothers of the Baladi are perfect for Festivals, Fairs, Colleges and Universities, Concerts, Performing Arts events, Multi-Cultural Programs, and other Special Events.  Their 11 CDs are distributed exclusively in retail outlets by Burnside Distribution Corporation (www.burnsidedistribution.com); email booking@baladi.com to request a CD!
What people say about Brothers of the Baladi:
"A sound that knows no borders" — LA Times
"… a wonderful journey marked by creativity, spirit, taste, and adventurousness. Their unique blend of musical and cultural influences… quickly won over our audience with inspired and infectious music. A most enjoyable, enlightening and fun experience. Truly look forward to the next time we can have the Brothers back." — Kurt Bagnell, Manager of Presentations, The Banff Centre Banff, Alberta, Canada 2011
"Infectiously danceable… will lure grooving congregates to the floor, seats of chairs, and even table tops!" — Artvoice, Buffalo, New York
"If World Peace is ever going to come it will be because of the talent and devotion of people like The Brothers of Baladi. Be at the forefront of the wave that breaks the barriers and begins the peace process right here, while enjoying a great groove." — New Times, San Luis Obispo, California
"Brothers of the Baladi mix the insistent beat of Middle Eastern Music with equal parts Rock and Roll."  — Monterey Herald, Monterey, California
"….Brothers of the Baladi play music that makes regular guys loosen their ties and dance on the tables."  — The Oregonian, Portland, Oregon
"People were dancing in a well lit public place and that never happens. Bottom line – they make you move."  — Watermargin Cooperative / Program Board, Cornell University, Ithaca, NY
"Exciting, Educational, Sensational… everyone danced… " — ASMSU Montana State University, Bozeman, MT
"The Brothers of the Baladi put on a great show. The talented and personable ensemble had everybody dancing, including the kids, and the music was worldly, energetic, and inspiring."  — Brian Hurlbut Arts Council of Big Sky Big Sky, MT
"Brothers of the Baladi are the 'real deal' – a fresh take on an ancient idea." — Diane Gordon, The Beat Magazine